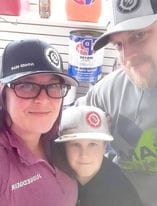 Lots of you may know us already, but we figured we would put some names to faces for those who don't!
Meet our little family, Brian, Megan, and little Cameron Monahan! (Not pictured are Miss Haileigh and Tyler, our other two kiddos!)
Brian and Megan have been together almost 15 wild years, married three. Our kiddos are our world!
Brian has had a vast interest in anything with a motor his whole life. He started riding a kitty cat with his brother when he was just two, and by five years old he was sneaking and taking off the throttle block so he could go faster.
In the late 90s, Brian moved to Virginia and developed his love for fast cars and drag racing. He spent most of his time building his pride and joy, a 1990 25th anniversary GT mustang with a stroker motor and a Paxton novi 2000 supercharger, and was frequently found racing it, whether it was street racing or at the track 😉
He later returned to Maine and spent the years working at different shops and spending his free time building race sleds.
A few years ago, Brian started doing some small engine work/repair for friends and family out of a little 12×20 car port in our side yard. I guess you could say that's where business took off! The work came in faster than we could keep up and there just wasn't enough space. After a few stops and shops along the way, we took a leap of faith and dove into our new location on 1A in Dedham. We had no idea a National Pandemic would happen a week after we bought it, but here we are, still trying to make our dream come true.
Brian's current build is a firecat drag sled for CBR Powersports to race this grass drag season. It's coming slowly but surely, but he's had a few custom builds for customers this season already, and our customers always come first!
Megan grew up in the small town of Milo, and spent many years working as a CNA/CRMA. When little Cameron came along, she was a stay at home mom for five years, and now runs the office side of CBR Powersports. You'll see her around the showroom doing boxing and shipping, sales, office work, and sometimes out in the shop helping!
Our family very much enjoys riding sleds in the winter, wheeling and fishing in the summer, and BBQing and fires every chance we get!
We are very much looking forward to having a huge public grand opening when large gatherings are safe to be had again, and being able to meet everyone in person! In the meantime, we will still be here for sales and repairs, and we can't thank you all enough for supporting our small business whether it be a Facebook share, buying apparel, gear, or fuel, or having service work done. You are what keep us going and we appreciate each and every one of you so much!